Happy Wednesday foodie friends! Long time no hear. So let me quickly share with you what kept me busy those last few days. Like this crazy weekend, when I did spent close to 8 hours in my kitchen baking up a storm, and the epic last company Christmas party I attended with Jay. In such a medium-sized enterprise as I worked in for the last three years, the Christmas party is always the biggest employee event of the year and everyone is talking about it months ahead and after. My co-workers in the marketing department are all pretty young and we all had an awesome night.
So why all the baking, you may wonder. Monday was my last day in the office, before taking my residual leave and moving to France. Saying goodbye to a group of people you worked with for years is never easy, but heaps of cookies and cake make it a lot easier to digest!
So, Monday morning was spent giving hugs and stuffing our faces and Monday afternoon I got out the boxes and suitcases and started sorting out, organizing and packing up more than 4 years of clutter. This might take a few more days. Good thing Lou is willing to help filling the boxes.
Christmas came early for her this year: ton's of boxes to jump and hide fill her cat heart with joy. While I chased Lou out of every box and filled it with books and clothing, I also fueled myself. Especially with a lot of fresh fruits. This fall/winter season I've been having a lot of colds. I lay the blame on all the stress I had these seasons and I highly doubt that the holidays will be restful. Thus I stuff myself with all the vitamins I can get.
Good thing I am totally crazy about banana smoothies. This one contained three spotty, yellow beauties, a handful of dates and heaps of cinnamon.
Followed by a super delicious raw version of a carrot cake.
Carrot Cake with Persimmon Orange Sauce
Ingredients
1 medium sized carrot
1 big apple
1 T raisins (or craisins)
1 tsp cinnamon
1 persimmon
1/2 orange
Instructions
Grate carrot and apple, mix together and press 1/3 of the mix in your favorite bowl as the cake base. Drop a few of the raisins on top and sprinkle with cinnamon.
Juice the orange and place with the flesh of the persimmon in your food processor/magic bullet. Mix and drizzle sauce on top of the first layer.
Proceed the same way with the remaining ingredients: second layer of grated carrot and apple, raisins and cinnamon and some sauce. Should be enough for three layers. Finish of with a final sprinkle of cinnamon and dig in.
Notes
If your carrots and apple aren't sweet enough you might want to add some honey or brown sugar to the mix.
http://www.with-an-open-mind.com/2013/12/18/what-i-ate-wednesday-between-moving-boxes-and-christmas-cookies/
Copyright © 2014 With An Open Mind
This kept me full for quite a while and lunch was a late one.
Another fresh winter salad with quinoa, with a dressing made of the remaining orange persimmon sauce, olive oil, salt and pepper. Also I am quite a fan of hot chicken wings as a quick lunch option.
Later I snacked on two of my recent finds: wine gums purely made of fruits and dark chocolate in extra small cubes.
Around dinner time I was more tired than hungry. Some quick avocado hand rolls and a 1 hour nap was all I craved, before finishing a part of Jays Christmas present. Cannot wait to show you some pictures of it after the holidays.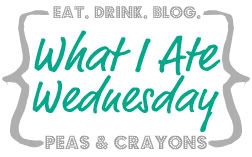 Now I am heading over to Jenn to check out some of your Wednesday treats. Have a beautiful week and some delicious eats!