Happy Wednesday foodies!
Even though my posting schedule is pretty off at the moment and I am prioritizing getting ready for my semester abroad and moving out of my flat, I just couldn't skip my favorite blog day of the week. Can you imagine that I haven't any Christmas presents bought yet? I mean – Jays was ordered about a week ago, but the company made a mistake and now I have to call them and hope they could fix it, which I've been successfully postponing the last few days… Good thing that my friends and I don't do Christmas presents and I only have to get something for the family. Jay and I have an arrangement: he buys the presents for his family for both of us and I take care of mine. Half the worries – because, let's be frank, otherwise I would have to think of presents for his and mine and he wouldn't worry at all. Oh boy, good thing he is awesome in wrapping presents – that is something I seriously suck at. Regarding my family: my mom will be happy with a good read, my brother with a case of beer (just kidding), the only problem as always is my dad. Any good ideas for dad-presents would be much appreciated!
But enough of the Christmas chaos, let's talk food: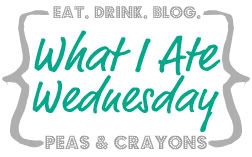 Yesterday was a strangely hungry day. It started the night before: I went to bed at around 11 pm, damn tired since I needed to get up pretty early the same morning at Jay's to drive to work before the rush hour starts. My tummy started to growl and I couldn't fell asleep. At about 1 am I threw in the towel, got up and made myself a bowl of Russian wheat porridge (no milk at hand for oat porridge and the fastest thing to cook up). After eating and reading for a while I finally fell asleep at around 2 am. Can you imagine that my tummy was hangry again when I got up at 8 am on Tuesday?
I blame it on Cat's Active Advent workout #9, by the way – thanks Cat (just kidding
).
Thus I made sure to fuel myself with fruits in the morning – as I mentioned on my Instagram, I bought 2 kilos of ripe bananas for 99 cent! People don't get that spots don't mean the banana is rotten, but that it is just ready to eat – good for me. And after using up some for banana bread baking purposes, there were still more than enough left for some epic smoothies. This one contained 3 huge nanas, about 2 cups of pineapple and some water. Deliciously simple.
After my long morning grocery walk in the city I was hungry again. The perfect opportunity to give my new citrus juicer a try: fresh orange juice, advent calendar praline and the last two persimmon snowballs made for a nice snack.
My lunch salad was something I came up with to empty my pantry (though quinoa really isn't the problem… I am working on a pantry sitter post, which will hopefully be up later this week). But it was such a damn delish combination that I spontaneously decided to share the recipe for this seasonal salad with you. By the way, did I mention that cilantro makes everything taste so much better? Just as sriracha does – good thing I used both in this epic bowl!
Winter Spinach Pomegranate Salad
Ingredients
salad

1 cup spinach
1 apple
1/4 cup pomegranate
1/4 cup quinoa (dry)
handful of fresh cilantro
-

dressing

2 T orange juice
1 t honey
1 t olive oil
1/4 t sriracha
Instructions
Cook quinoa according to package instructions (about 15 minutes).
While cooking, wash spinach and cut in bite sized pieces. Dice the apple. Chop the cilantro.
Let the quinoa cool down while preparing the dressing. Juice half an orange or use store bought orange juice. Mix with honey, olive oil and sriracha.
Combine all of the salad ingredients, add the dressing and enjoy.
Notes
If you don't plan to eat the salad immediately, keep salad and dressing separated to avoid soggy spinach.
http://www.with-an-open-mind.com/2013/12/11/what-i-ate-wednesday-winter-spinach-pomegranate-salad/
Copyright © 2014 With An Open Mind
Though I loved my salad, I have to admit that it just wasn't filling enough for my ravenous tummy this day: I snacked throughout the afternoon on a quickly assembled wrap pizza, four or five unpictured rice cakes with honey or jam and some dark chocolate chips.
My hunger finally wore down around dinner time, nice timing, thanks bro… So instead of making an epic bunch of various vegetarian maki rolls, I kept it simple with this small batch of avocado maki and passed out on my bed afterwards, completely stuffed. Mission accomplished.
Did you experience ravenous days recently – how do you deal with them? Do you have bought all Christmas presents already? Any good present ideas for a 49 year old, motorcycle crazy, buys-everything-he-wishes-for dad?