So I have been getting more and more sick ever since our spontaneous party night last Thursday and when I woke up yesterday morning it finally really hit me – runny nose, sore throat, a feeling of weakness and barely any voice. Lucky for you I am the complete opposite from those people who lose their appetite when their sick. When I am down with a cold I get ravenous. It is like my body needs all the energy to fight the illness and who would I be to deny that? Here comes a more or less complete report of what I munched through yesterday:
Breakfast #1 Green Smoothie made out of a banana, some frozen mango chunks, spinach and water. Refreshing, full of vitamins, not necessarily filling. Thus this happened:
Breakfast #2 French Toast made with some whole wheat fiber bread, which I will not buy again, since it turned stale in a day. I added a side of cream cheese, peanut butter and blueberry jam and ate the other two slices left unpictured as well.
Soulfood Around lunch time O and I went to the city and park for a study break. Our trip started with a stop at the coffee shop, where I got a sunshine smoothie (mango, ananas, papaya heaven), later in the park I sneaked a crumble from Os dark chocolate cookie, followed by some shopping-fuel [unpictured] mini viennoiserie apple turnover with an espresso I love how nearly every bakery here has mini versions of croissants, chocolate croissants and raisin rolls, I am a try-them-all person as we know. And after shopping we treated ourselves to a bowl at our favorite ice creamery. My flavor of choice: pistachio. Sadly I couldn't finish this one, the creaminess was slightly too much for me.
Dinner Later in the afternoon I heated up a bowl of my go-to cold food: chicken soup. Since the bowl was pretty small and I was ravenous, I went back for seconds. Do you also add ground pepper to chicken soup? I do this not only with the one I cook myself, but also with store-bought quick fix versions. Again [unpictured] 2 handfuls of vegetable chips (beetroot, parsnip, sweet potato and carrot) and then later in the evening, while dealing with my Strategic Management exam prep:
Supper Microwave banana oatmeal with more bananas then oats. Lately I am in to the gooey consistency it gets from adding more bananas. Of course this one was topped with peanut butter and Muscovado sugar – can you believe that I still did not finish the pack of sugar I brought from Germany!? Even though I am totally addicted. This stuff is magical.
Also [unpictured] two cups of my cold-cure-tea made of lemon juice, ginger and honey.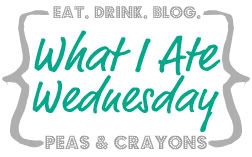 Now hop over to Jenn for more
and surely less sick
deliciousness.
What is your favorite cold food? Are you losing your appetite or getting ravenous when you are down with a cold?